Buy Now
only
$29.95
Free Shipping in the U.S.
CHECKOUT SECURELY USING PAYPAL.
People say...
The roof of the car that was covered by the Shade Tree was definitely cooler to touch than the sun exposed surface! Within a minute of using the AC my car was comfortable!

Erica from Houston

me lo regalo mi hija , es increible !!! protege de los rayos solares !!! y muy practico para llevarlo a todas partes !! !

Leticia Villegas Matamoros, Tamps Mexico

The nice thing about the silver reflective surface is how easy it is to clean off with just a sponge and plain water! The bird poop & dirt just came right off!

Keith from Alabama

I couldn't believe how easy it was to put on the car, and when we had a rainstorm it stayed right in place! I just hung it up to dry and within a couple hours it was ready to go again!

Sunil from Oklahoma

I've had several coworkers ask where I got my Shade Tree, and I just showed them the web address on the top of mine and they were able to get some of their own. Thanks!

Mindy from Phoenix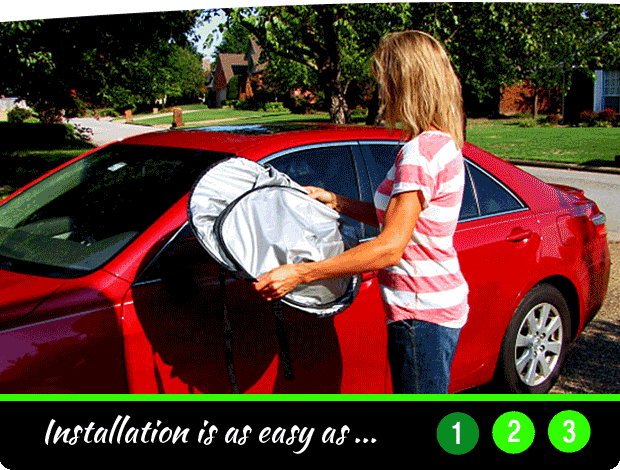 ---
Why Buy a Car Cover?
For most people, a car is one of their biggest investments, second only to their home. It only makes sense to want to protect that investment. The sun's rays can be damaging to the inside and outside of your vehicle. UV rays cause damage to your paint job, your dashboard and even your seats. Car covers can help prevent that damage, but who wants to fit a traditional fabric cover over their car everywhere they go? That's where ShadeTree's auto shade can help!
What Makes ShadeTree's Auto Shade Different?
Most auto shades are actually just windshield shades. The ShadeTree auto shade is more like a car cover than a window shade. Here are a few of the advantages the ShadeTree car cover has over a typical window shade or car cover:
A window shade reflects heat at the windshield only, while ShadeTree auto cover protects the windshield, vehicle top (including sun roofs), and back window.
Installation takes less than 2 minutes, which makes it faster than a fabric car cover and about the same as the window shade.
Unlike the fabric car shade, it is held in place by straps that are locked into place when the doors are shut.
The Shade Tree auto shade has foam spacers sewn into the panels that keep the cover slightly elevated allowing for air circulation. Neither the windshield shade nor the fabric car cover offer this.
Experience the ShadeTree Difference for Yourself!
With all of the advantages that Shade Tree auto covers offer, you might be surprised to find them reasonably priced at only $29.95 with free shipping in the U.S. When simple windshield shades can cost $40 and car covers can range as high as $500, it's nice to find a value like ShadeTree's.
---